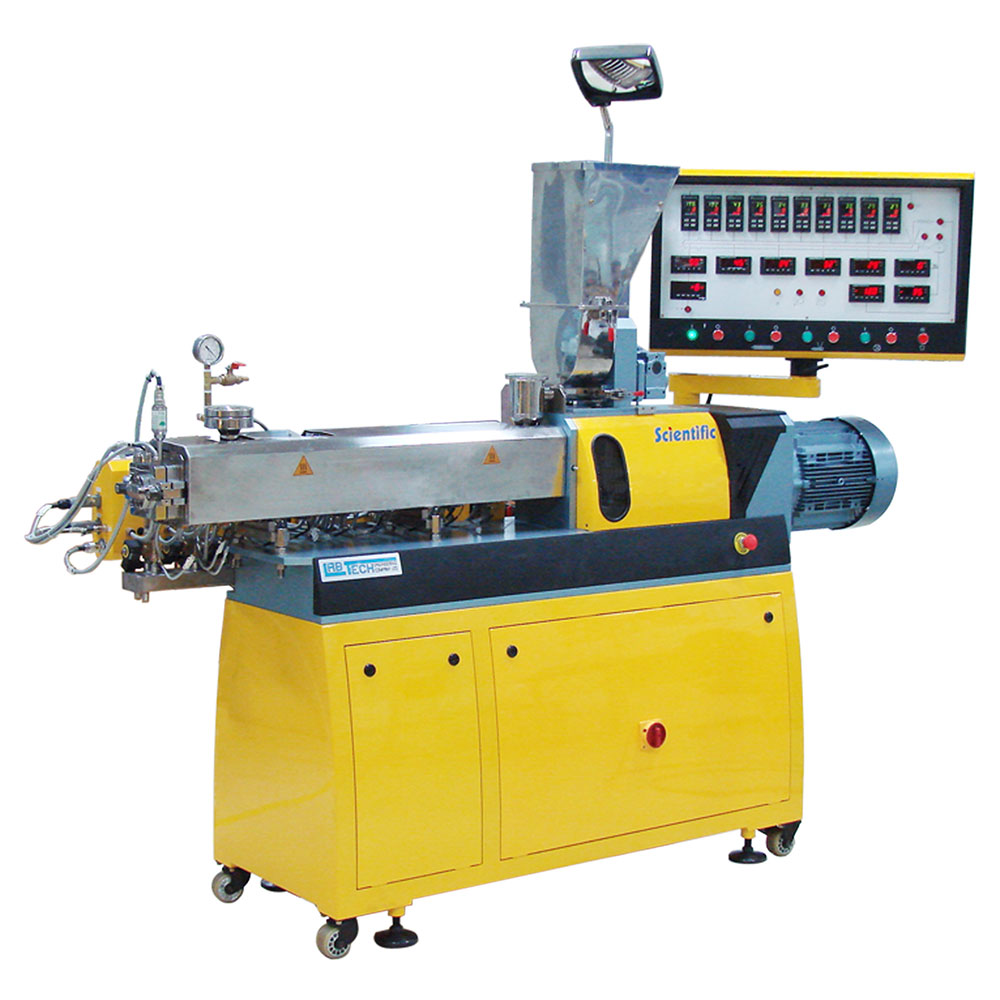 Category: Twin Screw Extruders
Now available in High Corrosion Resistant as well as High Wear Resistant versions
Modular 26 mm co-rotating twins screw extruder with segmented screws and barrel inserts, with barrel lengths of up to 60 + L/D and screw RPM of up to 1200
The Scientific 26 mm co-rotating twin screw extruder is made with a complete modular build up of the clam shell barrel, where each barrel section have a length of 4 D or 104 mm. Many L/D sizes are available from 32 to 60+ The standard twin has a drive power of 15 KW and a max screw RPM of 800.
The MAXICOMPOUNDER is equipped with a 22 kW AC Motor drive and a re-designed gear box comprising of  additional shaft supporting gears and a direct driven gear pump for closed loop oil cooling system. The max screw RPM with the Maxi Compounder is 1200 RPM as opposed to our standard versions where the max RPM is 800.
As of 2014, the standard 15 kW 26 mm twin screw version is equipped as standard with  High Torque screw shafts, same as we supply for the 22 kW MaxiCompounder. Further the standard twin has a new gear box which is equipped with a high efficiency forced oil lubrication system with a block type of heat exchanger to ensure the gear box is kept cold at even the severest running conditions. This also ensures optimum lubrication to all gears and bearings.
Our MaxiCompounder also have this cooled and forced oil lubrication system on its larger gearbox which is designed with a high safety factor to withstand the higher power and RPM delivered to the shafts.
The modular Clam Shell Barrel is equipped with exchangeable barrel lining inserts for optimum economy and ease of replacement. These standard inserts are made from a very high grade tool steel which is through hardened to over 60 RC and which can withstand high processing temperatures of up to 400 °C. This unique barrel insert system was designed by us in 2003 and has proven during the years to be a very good feature. In addition our twins are now available with insert made from High wear resistant steel from Crucible in USA to be used when compounding with highly abrasive components. Further our twins can be supplied with inserts made from medium corrosion resistant steel as well as very high corrosion resistant inserts made from Inconel steel types from USA. This latter steel type is useful for processing for example of Fluor plastics and other resin types which develop aggressive acids during processing.
Request a Quote/More Information