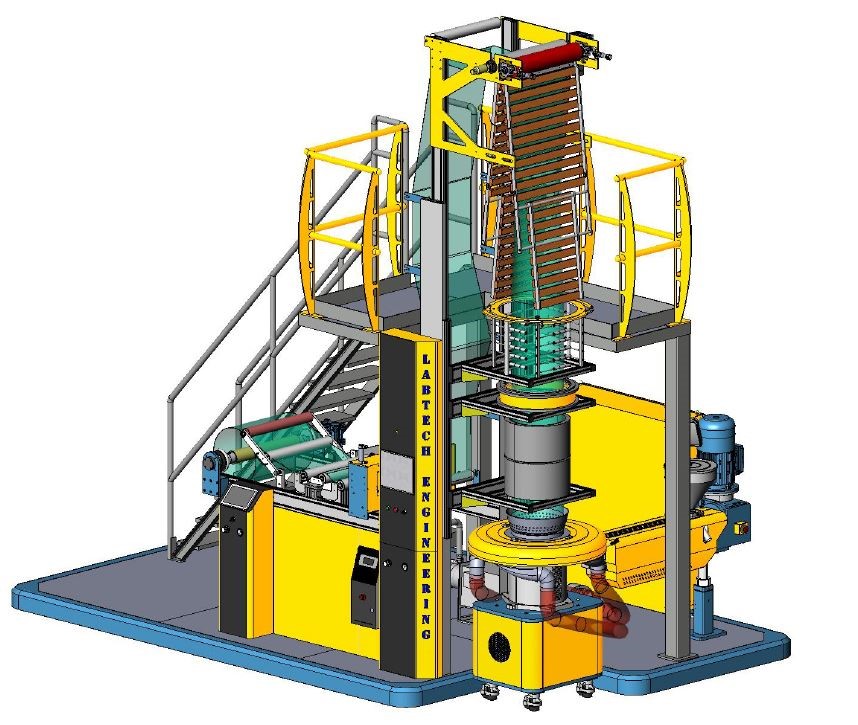 Labtech Engineering is developing a very unique and sophisticated LCP film blowing line for laboratory and pilot plant production. This is a very large challenge for us as producing films in LCP is extremely difficult and to our knowledge no Laboratory machine producer has managed to produce a line that works. Liquid crystal polymers (LCP) are anisotropic polymers used widely in electronics, anti-corrosive liners, high barrier films, and containers for its benefits in reducing costs and plastic waste, due to its high barrier performance and mechanical properties.
To produce high quality LCP film with excellent mechanical properties in the MD (machine direction) and TD (transverse direction) multi-axial orientation must be applied during the melting process by using transverse shear stresses across the melt. To achieve this, a tri-rotating die (TRD) is used to create a symmetrical orientation of the LCP melt. The result is a multi-axial symmetrical orientation of the melt which balances out the residual stresses at the mid plane and prevents curling of the film during the cooling process.
The line features a single screw extruder, with a C-clamp on the flange at the end of the extruder, built up on a fixed extruder stand which can be vertically adjusted in height to align with the die position. The film blowing tower is equipped with a tri-rotating die (TRD) with spiral flow distribution channels known for their excellent uniform distribution output. Located above the die is a dual-lip air cooling ring followed by an annealing chamber for cooling and eliminating residual stress in the film bubble.
The line is uniquely designed with an open space, giving easy access to all film blowing components for an easy and convenient operation in the working area. The whole attachment assembly is mounted on a sturdy base platform with a diamond plate steel surface to provide safety working area to the operators. The base platform is where the electric cables and water pipes are kept giving a very clean appearance with very few visible connections. A steel staircase with steel safety handrails and steel platform provides convenient access and support making it easy for the operator to pull the film and feed it through the nip rolls. All electrical parts are mounted in the main electric cabinet for a safe, convenient access and easy maintenance of electrical components.
The line also features a stabilizing cage made of Teflon rods, an extra-long two steps collapsing A-frame, and water-heated nip rolls for further relaxing the of bubble as it is deflated into a lay flat film. The upper, secondary collapsing frame assembly is constructed from a height adjusting aluminium twin pillar that is supported with a U-steel frame for a steady upward and downward adjustment.
Further down the line is a center-winder equipped with options for auto-tension and film web guide system for precise control over the winding of the film roll. A center-winder with a lay-on roll presses the film on top of the center winder to ensure a firm grip of the film on the windup roll and achieve a good stability at all times.
We are in full speed building this line and we expect it to be completed in about four months' time or before the end of first quarter 2021.