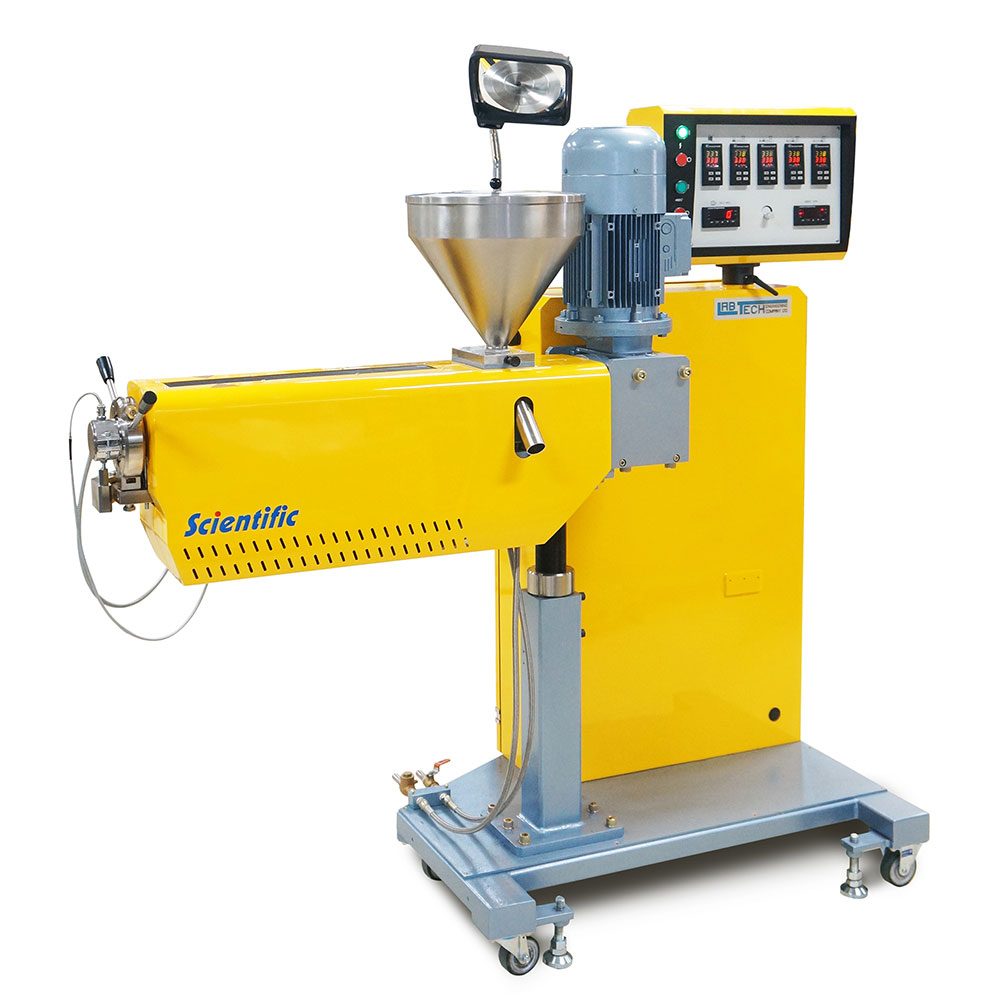 Category: Single Screw Extruders
For general compounding of PE, PP, PS, ABS etc, non-vented type equipped as following:
Screw and barrel in high-grade nitride steel, screw diameter 25 mm and L/D ratio of 30. Optionally available with bimetallic barrel giving optimum ware and chemical resistance. Screw with Maddock mixing section at 22 D and with pineapple mixing at screw tip. Compression ratio 1 to 3. Other screw types including our modular screw elements where you can build your own screw configuration available. Screw speed infinitely variable from 0 to 300 RPM. 4 kW AC motor drive, coupled directly to an in line heavy-duty helical gear box, which in turn is connected to an individual housing containing the oversized thrust and position bearings for the screw drive. Optional 5.5 kW drive with high torque gear box, recommended for processing of rigid PVC as well as difficult to extrude polymers. The screw speed is here infinitely variable from 0 to 200 RPM.
The vented version of our 25 mm extruder has been developed with a special screw design, which ensures very good feeding properties without material bleeding out of the vent. The screw designs has been tested and proven with many different polymers such as LD & HD-PE, PP, PS, ABS, Nylon, PC and PET. The features are the same as our non-vented version with the following additions: Vented screw design with Maddock mixing section at 15 D followed by the decompression and venting zone. The screw at the vent and to the end has double flights for optimum feeding property. The tip of the screw is equipped with split open flanges for additional mixing. Large vent opening with housing made of Stainless Steel. It is also equipped with stainless steel swing open lid with large Polycarbonate window and with pipe connection for the vacuum pump. The swing open lid is equipped with rubber seal to give a tight vacuum fit to vent. Built in vane type vacuum pump driven by a 0.3 kW motor and with an air capacity of 6,000 litre per hour. A large stainless steel mesh filter protects the vacuum pump and the mesh is housed in a see through Polycarbonate container which can be easily unscrewed to clean the filter. The pump inlet is further protected with a small paper filter. Including a vacuum dial gauge and release valve mounted on the top of the extruder barrel behind the vent opening. The ON/OFF selector switch for the vacuum pump is located just below the vent opening and is lighted red when the pump is on.
Request a Quote/More Information