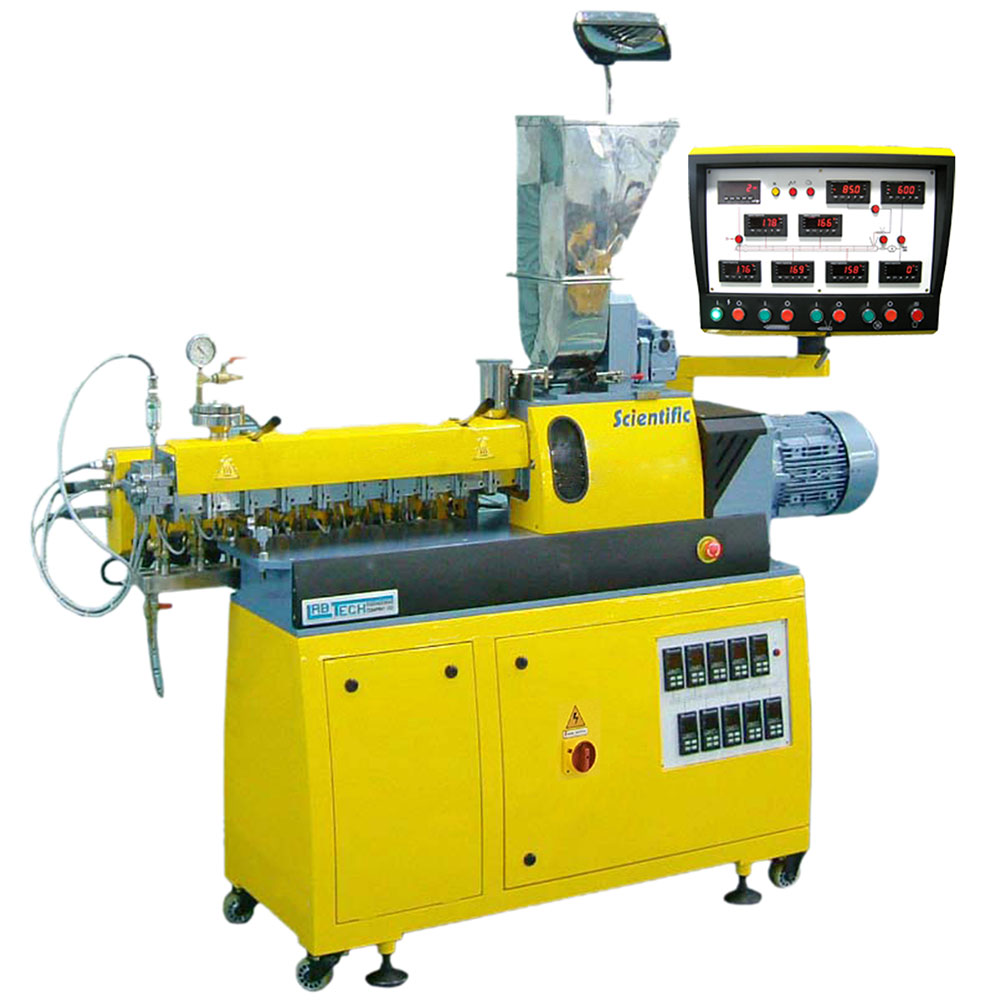 Category: Twin Screw Extruders
Now available in High Corrosion Resistant as well as High Wear Resistant versions.  The Scientific 20 mm co-rotating twin screw extruder is the ideal laboratory extruder for production of smaller batches, be it for experimental purpose or for producing samples to your customer. This twin screw is built up exactly in the same way as our larger 26 mm version, comprising of a complete modular build up of the clam shell barrel, where each barrel section have a length of 4 D or 80 mm. Two standard lengths are available with 32 and 40 L/D and with drive powers of 5.5 KW. The modular Clam Shell Barrel is supplied as standard in the high temperature versions and it is equipped with exchangeable barrel lining inserts for optimum economy and ease of replacement. These standard inserts are made from a high grade tool steel which is through hardened to over 60 RC as well as nitrided for a surface hardness of 65 to 70 RC. The barrel with inserts can withstand high processing temperatures of up to 400 °C.
The screws are built up from individual single elements mounted on hexagonal hardened shafts. Each individual kneading elements is supplied in many angles to enable optimum variations in screw configurations. The screw components are made from high grade tool steel which is through hardened but made with a slightly softer hardness than the barrel linings to ensure optimum life time for both elements and barrel inserts.
The whole clam shell barrel assembly is split in the center and can be easily swung open after loosening the barrel bolts. This gives easy access to the screws for cleaning or changing of screw elements and/or barrel inserts as well as to observe the melt and compounding characteristics of the polymer being processed. The top half of the barrel is balanced so that very little force is needed to open it up and with this the hazard of accidental heavy closing is eliminated.
Each barrel zone is equipped with both water cooling and electric cartridge heating. This allows for complete process control at each zone of the barrel and the water cooling coupled with the high wattage heating enables fast temperature changes of each zone when changing processing conditions from one compound to another. The water cooling is done from fine channels inside each barrel module and regulated with individual solenoid valves from its designated temperature controller.
Request a Quote/More Information